Exhibit-TEEN
Exhibit-TEEN is a youth mentorship program formed in partnership with Seattle nonprofit Urban Artworks. This education initiative invites participants of Urban Artworks' year-long mentorship program to work collaboratively alongside MadArt staff in a project-specific context. Over the course of four weeks, mentoring partners work at MadArt Studio to develop, design, and execute a set of canvas murals to be temporarily exhibited on the facade of the building. Additionally, participants engage in supplemental workshops that focus on professional youth development such as peer critique, arts writing, and portfolio review. Centering on high-quality arts education that fosters youth development, this program aims to facilitate a comprehensive experience for participants that spans various aspects of exhibition planning and execution, as well as arts professionalism.
Inaugural Program: June 5 – August 31, 2021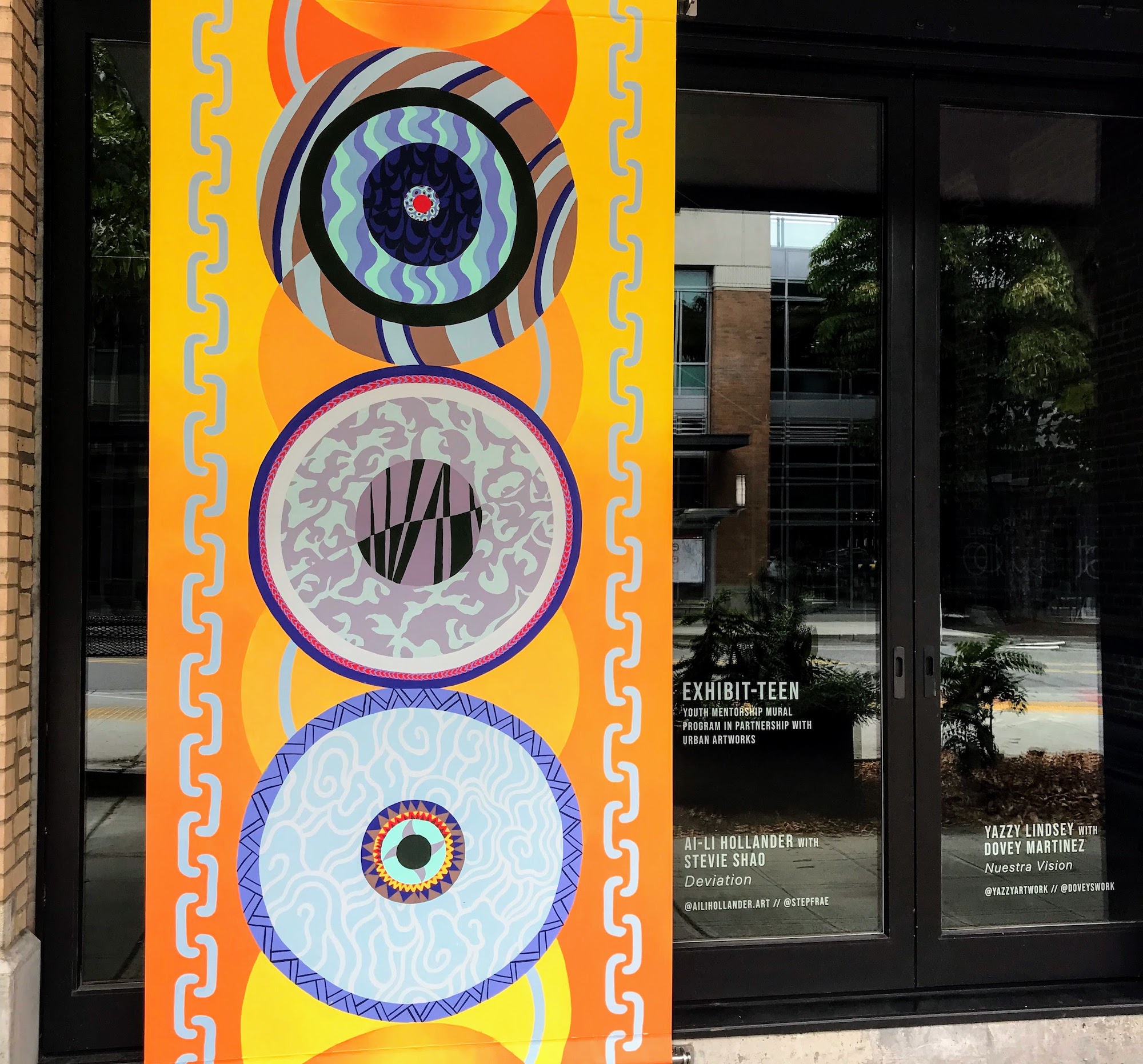 Deviation
by teen artist Ai-Li Hollander – @ailihollander.art
mentored by artist Stevie Shao – @stepfrae
On view through August 31

Ai-Li Hollander is a Seattle-based emerging artist who explores her emotions and perspective through abstract concentric circle motifs. Influenced by her subconscious, each of her pieces operates as a snapshot in time. Hollander's work juxtaposes color, gradients, patterns, alongside dichotomies such as movement/stagnation and opacity/transparency, in order to express her internal emotional states. While she works primarily in gouache, she also experiments with clay, wire, and paper sculpture, ceramics, cut paper collage, and illustration. Hollander has shown in youth emerging artist exhibitions at the Seattle Art Museum and Bellevue Arts Museum, and plans to continue her artistic studies in college.
Artist Statement:
This work is a continuation of my concentric circle series, which records my internal emotional state through gouache patterned circle layers within a standard outer circle. In this mural, I specifically explore the emotional journey that I experienced during the COVID-19 pandemic. As society begins to "return to normal," I reflect on and bear witness to this time. The abstract work features different colors, gradients, patterns, and energies that appose one another. These layered juxtapositions create harmony or discordance, reflecting the contradictions and layers of my emotions. When linked together, the circles are an exercise in introspection that translates my personal experiences into a visual language. The three concentric circles chronologically record this time, with the topmost circle representing the beginning of the pandemic, the middle recording my day-to-day experience, and the bottom representing the beginning of reopening. Each circle is a lens allowing the viewer to see through my eyes as I reflect on the last year and a half and look towards the future.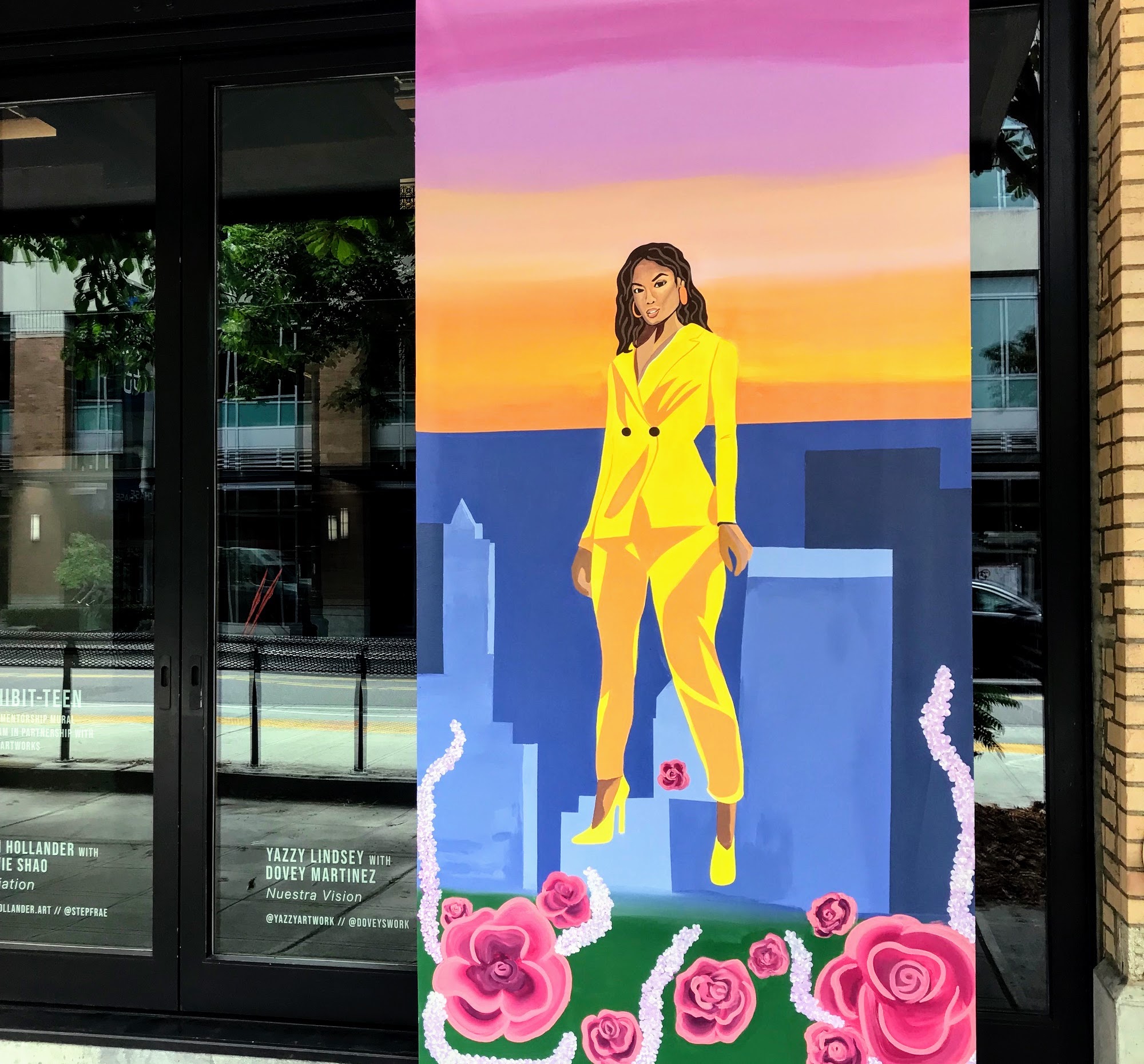 Nuestra Vision
by teen artist Yazzy – @yazzy_artwork
mentored by artist Dovey Martinez – @doveyswork
On view through August 31
Yazzy: painter, muralist, digital artist, and active community member. At the age of 14 this Seattle native jumped into the art world. Through the Covid-19 pandemic, Yazzy still found impactful ways to share her art and stay involved. She did this by creating art in Capitol Hill's Autonomous Zone, showing her work in Nepantla Cultural Arts Gallery, and participating in multiple virtual exhibitions and artist programs. Through her artwork she shares the beauty of moments in daily life, whether it be her own or others. As a highschool student and bi-racial woman, Yazzy brings a fresh new perspective to the table.
Artist Statement:
Our piece portrays the Latina woman having fulfilled her vision. As a successful and active woman in the community, she has the support and acceptance of her community behind her. We (Yazzy and Dovey) are both Latina women, similar to the woman in the subject of our painting. Inspired by the vision board concept and collage style, by painting a successful female we are visualizing ourselves to be in a similar position of success. Vision boards are used to keep people on track as they look toward their goals for the future. Using sharp outlines we divided each subject as if they were cut and pasted onto a posterboard. We drew inspiration for our color schemes from our travels through the colorful cities of Central America. Using the color pink, we represented roses which are deeply rooted in the Latina culture. As we walk away from this piece we recognize that we are strong and powerful just like the woman in our painting.